Western Southland
About Western Southland
Summer days in Western Southland stretch into endless twilights, tinged by stunning sunsets that last, quite literally, for hours. Western Southland's main coastal stop is the port town of Riverton/Aparima – the Riviera of The South – which has developed a culture of artistic creativity. While in Riverton/Aparima, be sure to also visit Te Hikoi Southern Journey Heritage Museum for an engaging insight into the unique and dramatic history of Maori and European settlement. Surf's up at nearby Colac Bay/Oraka, where 'Porridge' ranks among New Zealand's top surfing spots. Look carefully from Te Waewae Bay and you may just catch a glimpse of New Zealand's largest pod of Hector's dolphins/Upokohue.
Western Southland Website Links
Start planning your trip now, these website links will help:
Western Southland Townships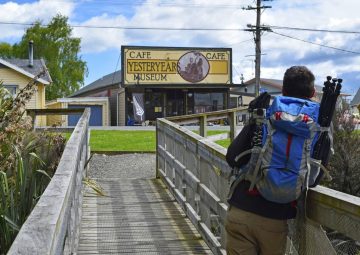 TUATAPERE
The centre of a farming community, Tuatapere is often referred to as the 'Sausage Capital of New Zealand.' It has several art and craft galleries, and the Bushman's Museum displays a detailed account of the area's sawmilling history. A number of jet-boating, fishing and tramping opportunities are available.
RIVERTON/APARIMA
A popular seaside and holiday resort, Riverton/Aparima is known as the 'Riviera of the South'. Riverton/ Aparima is rich in early Ma¯ori history and is one of the earliest European settlements in New Zealand. Visit the Te Hikoi Southern Journey Heritage Museum and take a photo with the infamous paua shell on the main road.