The Catlins
About The Catlins
The Catlins offers a glimpse of rural New Zealand set amid native forests, fringed by high cliffs and golden beaches. Here, you'll find a world of waterfalls, including the tiered Purakaunui Falls, amongst the most photographed in the world. This spectacular coastal stretch is home to an array of marine life – sea lions are regular beach visitors, while dolphins frolic in the shallows. Keep your eyes peeled for the rare but distinctive hoiho, the yellow-eyed penguin. Nugget Point/Tokata, with its lighthouse perched on a spur of land provides a spectacular viewing platform, while at Curio Bay, watch the outgoing tide reveal a 180 million year old Jurassic forest – one of only three such accessible fossil forests in the world. Another low tide attraction is the Cathedral Caves. Etched by the sea over centuries, its entrance towers 30 metres above the beach.
The Catlins Website Links
Start planning your trip now, these website links will help: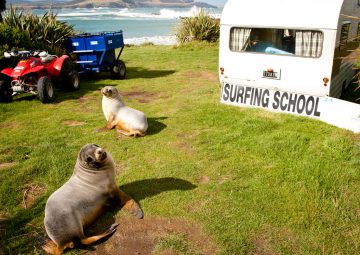 Curio Bay
Few places offer such scenic, wildlife and recreational values in one small area. Tumu Toka, translates to 'hardened wood' or 'stump of wood' – a reference to the ancient fossil forest with imprints of fallen trees and ferns from 180 million years ago, that can be accessed at low tide. A small population of endangered yellow-eyed penguins/hoiho nest nearby. From the camping ground there is access to Porpoise Bay, a popular swimming and surfing spot. During summer, you may see the rare Hector's dolphin/upokohue swimming in the bay.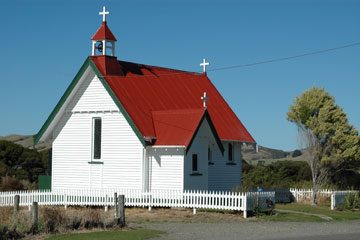 Waikawa
The Waikawa Museum has numerous displays relating to the early settlers and their industries of this once bustling port town. Short walk options include the Old Coach Road (20 minutes return, and only passable at low tide), and the George Aitken Walk (20 minutes return).